Big Blue Lagoon - Backyard Inflatable Water Park and Slide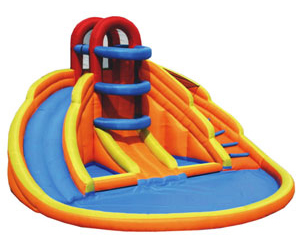 This huge 16 feet across backyard water slide/lagoon has two water slides and a small lagoon near the front of the play area. Included in the Big Blue Lagoon is an air blower that plugs into a 120V outlet so it can inflated fast. Also included are a patch kit for minor repairs and 12 total stakes (eight for the water park itself and four for the air blower). Water is supplied to the inflatable water park through a garden hose.

For those with kids and a lot of money to blow ($599 retail), this should be a fun distraction.