The
Res-Q-Me
is probably the most important tool you can carry in your car. It is a seat belt cutter and glass breaker that can fit in the palm of your hand.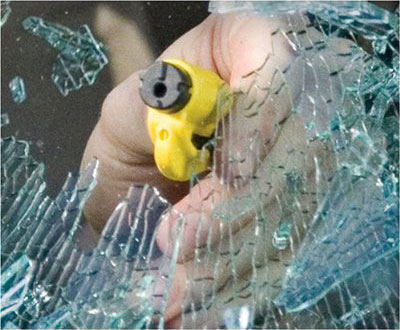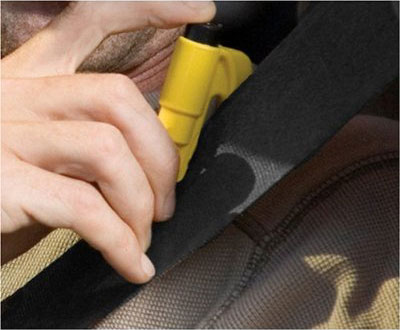 We have all seen it at some point in time, a rollover, car in a lake, or a car on fire. This little tool can help in any of these situations. It is a little device that you can put on your key chain so that in the event of an accident you will be able to help yourself out of trouble.
Just recently I was involved in a defensive driving course taught by a member of the Florida Highway patrol. The course was eye opening. The statistics that the officer brought to the table were outrageous on how many people have rollover accidents each year. The numbers were equally high for car fires associated with accidents. The officer then brought this little device and swore by it after giving us a brief demonstration on how easy it could cut through standard automotive seat belts. He also showed a small video clip of how it can break through the tempered glass on your vehicle in seconds. If you have 10.00 to your name and you own a vehicle make sure you get one of these as it can save your life and that of your loved ones. They also come in twin packs that will save you some money if you would like to purchase another for a spouse or child.
Here are some images of the device in action to give you a better idea on how it works.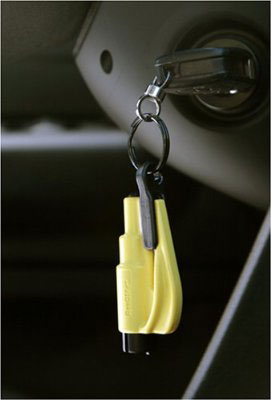 The officer suggested that the device be used on the key chain because it would not be tossed around in the event of a rollover and since you see it everyday you will easily know where it its and wont fumble around looking for it.
The
Res-Q-Me
is available in four attractive colors, yellow, royal blue, black, and vibrant safety orange.
Get your on
Amazon
Manufacturer
Res-Q-Me