Eclectic Canvases from icandy artwork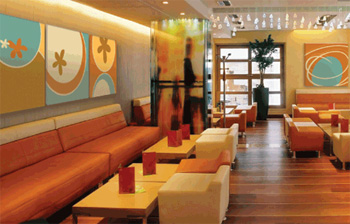 icandy artwork, a small design house from Grand Rapids, Michigan, produces eclectic canvas prints centered around different themes - contemporary, kids, music, hardware, gourmet, natural elements and so forth. These prints are not printed on regular paper, instead they are printed on high-quality artist canvas using UV ink. Each print is wrapped around 1.75inch wood frames, so the prints look thick and rich. And instead of stapling the canvases on the back (like a lot of other companies do), the print is stapled on the inside of the wood frame. This prevents your walls from getting scratched as you move the painting around when you hang the prints. But aside from the great craftsmanship, we love the artwork. In particular we love the artwork found in the abstracts and geometrics (featured above), gourmet, and contemporary categories.

Each 24in x 24in print costs about $160 dollars, but the company can provide custom sizing and coloring, so have fun.