One key electronic device in your home that has probably not had a significant make-over in the last decade has been your landline cordless telephone. Panasonic recognizes that and recently introduced the
KX-TG3031
line of 2.4 GHz cordless phones in the United States. The hook is that this line of cordless telephones will be available in a plethora of color choices appealing to the "I want choices" consumer. But does Panasonic succeed?
The color choices for the Panasonic KX-TG3031 Phone with Digital Answering Machine are separated into three very distinct categories: bold, fresh, and elegant. In the bold line you'll find very loud version of the colors green, orange, red, and violet. The fresh category on the other hand, contains much softer tones like pearl blue (pictured in our review), pearl pink, pearl yellow, and pearl violet. Lastly, the elegant line has a more chic attitude with the colors deep blue, copper, wine red, and moss green. Each one of these colors has matching handsets that you can purchase separately (models KX-TGA300). Needless to say should you desire to create a rainbow of colors in your home, you can opt for your main phone and digital answering machine to be pearl blue, one additional handset in pearl pink, and another in heaven-save-you, moss green. In total, your phone network can be made up of four different handsets.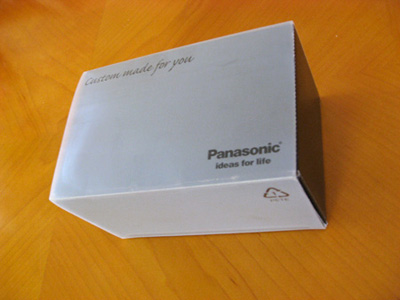 The Panasonic KX-TG3031 color phones come in very iPod-like packaging.
The voice quality of the Panasoic KX-TG3031 is on par with other Panasonic phones. That is to say that voice quality was good and in our tests did not receive interfering from other wireless devices. Additionally, the phone did not interfere with said wireless devices.
Battery life on this phone is also good, with up to 14 days on stand-by and up to 5 hours of talk time. Once you've exhausted the battery, it will take about 7 hours for a full recharge. Of course, if you place the handset back on the cradle after use, you'll never notice. Like most modern handsets, the Panasonic KX-TG3031 supports caller ID so you can ignore your boss calling you at home. And while we are in the subject of features, there are seven ring tones total, but what is there is very good.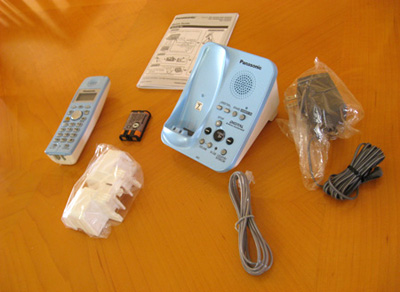 This is what you get with the Panasonic KX-TG3031
The Digital Answering Machine is capable of recording up to 12 minutes worth of messages which it stores in flash memory. Thankfully Panasonic allows you to delete messages even if you do not hear them, a feature that unfortunately some phone manufacturers have yet to implement.
In general the Panasonic KX-TG3031 color line of cordless telephones work well. The extensive option of colors is welcomed, but to be completely honest, we don't feel the phone design is at all interesting. That is of course a matter of taste, but in our opinion a bit of a disappointment that Panasonic didn't take a risk on the actual design of the phone. Furthermore, additional handsets retail for $49.95, about $20.00 more than similar phones, no doubt a premium for the choice of out-of-the-ordinary colors.
THE GOOD
- A lot of colors to choose from
- Solid voice quality
THE BAD
- The phone design leaves a lot to be desired
- Only seven ringtones
- Retails for more than similar phones
Manufacturer's Web Site
|
Buy Online