Streaming digital entertainment is the future of movie watching at home — that much has been established. There have been a lot of companies hoping to capitalize on this, including: Microsoft, Apple, Amazon, Netflix and so on. VUDU is another company hoping for a piece of the pie and like
Apple
and Microsoft (and now
Netflix
), they are one of the only companies with a direct link to where movie watching happens: Your television.
WHAT IS VUDU?
The VUDU Box is a set top box that you connect to your TV that let's you stream both standard definition and high definition content via the internet. The machine has an extensive array of video connectivity options including: HDMI v1.1, Component, S-Video and Composite. Audio connectivity options include: HDMI v 1.1, Digital Optical, Digital Coax, and RCA. You can connect the device as-is to the internet using an Ethernet connection. The device comes with an HDMI cable, VUDU Remote, an Ethernet Cable, Composite Video with Analog Stereo Audio Cable, and 2 AA Batteries. All of this for the price of $295.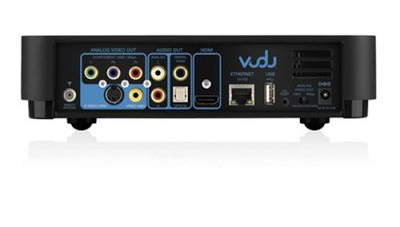 The VUDU has a lot of connectivity options — except WiFi
Right away you might notice one big problem with the standard VUDU Box — the lack of WiFi right out of the box. We were surprised that such a forward-thinking company like VUDU would opt not to include such a basic functionality of a internet connected device in this day in age.
THE SET UP AND THE INTERFACE
After following four simple set up screens and connecting the cables, the device basically set itself up by choosing the correct network settings and video resolution. We were impressed at the ease of set up, however immediately after that, we were forced to download a firmware upgrade that took about 10 minutes to download and install and then we had to run a catalog upgrade that took nearly as long. So, though the device was easy to get up and running, the upgrades made plug-and-play more like plug-and-wait. In all, after downloading and upgrading the device, it took well over 30 minutes to get up and going. Though we understand forcing the upgrade to keep everyone at the same level, it would have been preferred if the device would do this overnight instead of during the initial set up.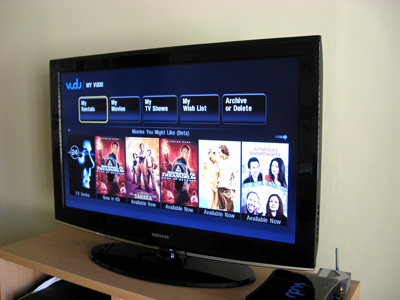 The VUDU interface is amongst the best in this market
Once we got past that initial wait, we were presented with the VUDU interface. And what a beauty it is. The interface is colorful and modern with large copy that was easy to read in both standard and high definition televisions. You can browse the catalog in many different ways including: most watched, new on VUDU, by genre, and in HD. You are also presented with a slew of options to search for any catalog in the VUDU library (as of this review 6,000+ movies). VUDU also allows to watch a small preview of a movie, which is typically a trailer, for certain movies in their catalog. We must admit that it was fun browsing through the movie catalog, scrolling through for sometimes, I kid you not, thirty minutes. Once you are ready to either rent or buy a movie, you press WATCH NOW, pay for the movie, and off you go.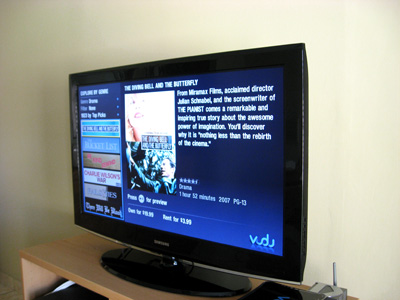 Exploring the VUDU catalog is actually fun
MOVIE/SOUND QUALITY
We tested movies in both standard definition televisions and high-definition televisions. Standard televisions had no issues playing back SD and HD content as the VUDU down-converted the HD movies to display on standard televisions. Likewise, high definition televisions performed well as the VUDU and the television upconverted the standard definition content and played back high definition content perfectly. That leads us to actual display quality.
VUDU standard definition movies looked sharper and more saturated than their DVD counterparts, though like the DVD movies being upconverted, the streaming VUDU movies showed significant artifacts in both dark and light scenes. Though it is hard to judge sound quality, we did not notice any difference in sound quality between VUDU and DVD movies.
VUDU high definition content was obviously better than the standard definition content showcasing a more colorful display, a sharper image, better contrast, and richer textures. When comparing VUDU high definition content to Blu-ray, the VUDU is not able to outperform the competing media. The VUDU high definition content was more in line with broadcast quality HD than with a physical media like Blu-ray. The sound quality edge goes to Blu-ray as some of their titles support Dolby TrueHD and DTS-HD Master Audio while VUDU audio support is limited to Dolby Digital Plus at the highest end.
Of course movie quality also varies from title to title with newer titles like "Fools' Gold" looking better than older titles like "Carlito's Way." "Ladron Que Roba Ladron" in HD looked miles better than "Abandon" did in HD as another example.
For the hearing impaired there is currently no subtitle support, but VUDU made it clear to us that they are working on that feature and it should be made available via a software upgrade in the near future.
THE PERFORMANCE
If you are watching a standard definition movie on a regular high-speed connection (DSL for example), those movies will start instantaneously. High definition movies on the other hand, will take some time to stream depending on your connection. During our tests, high definition movies became available typically after 1.5 hours of downloading. We were surprised that the VUDU service was 100% reliable in our tests. Day or night the standard definition movies streamed immediately and did not stop once during play back to catch up.
THE REMOTE
We wanted to briefly mention the VUDU Box remote control. The VUDU Box uses RF (radio frequency) instead of IR (infrared), meaning you can be 20+ feet away, behind a wall, and the remote still controls your VUDU Box. This is extremely useful and we are thankful for the mobility. The remote is ergonomic, molding to your hand while giving you easy access to the scrolling wheel (similar to that of a mouse) and the play and pause button. Navigating the screens was easy enough and we had no issues finding the very few buttons on the remote.
What we did have an issue with was the way the VUDU Box handled scrubbing on the movie time line. Scrolling the wheel upwards fast forwards the movie while downwards rewinds. Sounds simple? It isn't. Sometimes we were wrestling with the scrubber trying to get the movie to the place on the time line we wanted, making it frustrating to navigate.
THE COST
The biggest issue we have with the VUDU is the price. $295 is a big pill to swallow for a set top device that just plays movies you then have to purchase or rent. Like current Blu-ray players, the cost of admission is too high. We hope for VUDU's sake that the price of the unit can come down to the low one hundreds soon, specially since the device lacks WiFi.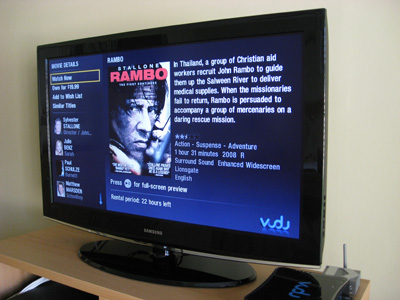 VUDU gives you the choice to buy or rent in some movies
We felt that movie rentals are fair. $2.99 allows you to rent most old catalog releases and $3.99 are the typical prices for new releases. There are some movies available at $0.99, but those are hard to find. High-Definition movies will cost $3.99 to $5.99 per rental. The price of BUYING a movie also varies from $9.99 to $19.99, though we found a few HD movies with prices of $24.99.
Television shows cost $1.99 per episode to own and there was no option to rent. The third season of Prison Break ran us $25.87 for 13 episodes. We hope VUDU offers people the option to rent a TV show at a discount in the near future.
One HUGE disappointment with the VUDU (and all similar devices) is that movie rentals are valid for only 24 hours after you press WATCH NOW. We found ourselves time and time again not being able to finish a movie in domestic settings. VUDU offers extended play at a discount to help ease the pain, but not all titles support this feature and quite frankly, we prefer if they offered 48 or 72 view periods as standard. Since this is digital media, there is no excuse for 24 hour viewing periods.
THE VERDICT
The VUDU Box is a great device. We enjoyed putting the device through the paces. There is a great wealth of titles available, the video quality, particularly standard-definition, is outstanding, and the movie rental prices are fair. Unfortunately, the cost of admission is a big problem and the lack of WiFi right out of the box is baffling. We would like to see the 24 hour viewing restriction gone as well.
If you have the cash to spring for a VUDU Box and you have no problems with the device's issues, you will not go wrong with the comfort this device will afford you.
THE GOOD
Prices of movie rentals are fair
Sweet interface
Easy set up
Every output option imaginable
Great standard-def picture quality
Very stable box
Large hard drive
Great network performance
THE BAD
24 hour viewing period per title
No WiFi included (adapter can be purchased seperately)
Fast forwarding/rewinding needs work
Price of the VUDU Box is too high
Not all movies are available for rent
No subtitles
HD quality not up to snuff (Blu-ray has this by a mile)
WHERE TO BUY
Amazon
MANUFACTURER
VUDU, Inc