Forget That 5 Gallon Jug! Produce Water from Thin Air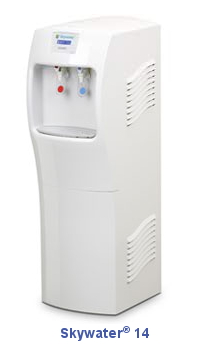 Looking for a new water dispenser for your home or office? Take a look at the Island Sky Water-Making Machines. The Skywater 14 machine works without bottles, so your back won't be hurting the next day after lugging around a heavy 5 gallon jug. The concept is actually fairly simple: The Skywater 14 transforms air humidity into water. It does so by using a technology that filters air, then it condenses it and collects it in a large reservoir. The entire system is purified with OZONE, which is EPA and FDA approved. After the water is purified, it passes through a carbon filter, which enhances the taste.

It is a cool alternative to provide low cost, high-quality drinking water for your home or office. Another thing to note is that the Skywater 14 needs no plumbing. You simply plug this bad boy into a standard 110 or 220 volt outlet and wait for the water to be sucked from the air. The unit has an LCD display which shows current indoor temperature and humidity conditions, and features a full tank gauge so you know when your water is ready.