Gravitonus The next level of computing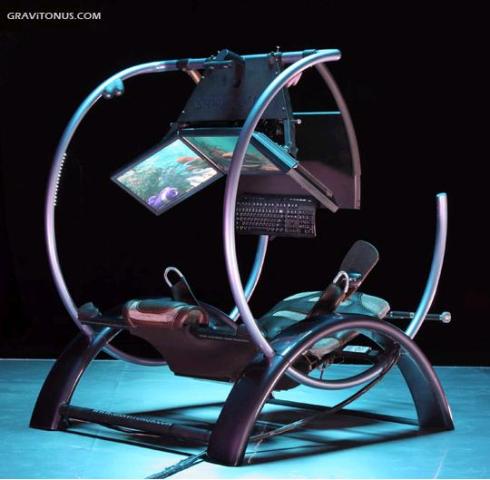 If you sit at your desk all day long typing away like a little robot you might like the Gravitonus. The Gravitonus is a state of the art computerized system, created to provide for optimal ergonomic conditions at work or play.

The system is an ergonomic dream. It has moving parts all over the place that will conform to your body to give you the most relaxing workstation you have ever tried. "The system constantly changes position of the user to maintain comfort in relation to the Earth Gravitational Field vector." The monitors are aligned perfectly to give the user the best field of vision. Although this product won?t make your work any better it sure will make it more pleasurable.

The Gravitonus also features onboard LED lights array that help eliminate glare. In the event that you get hot you have an active ventilated seat. Feeling cold? No problem they got you covered there also with the heating feature.

The keyboard glides in three dimensional spaces to give you the ultimate comfort. Finally they complete the system with a 5.1 surround sound system to keep you engulfed in your experience.