Looking for a safe way to transfer your important files? Take a glance at the
Ironkey
thumb drive. The Ironkey is an AES 256-bit hardware encrypted thumb drive that offers protection without the need to install any software.
The
Ironkey
features a Level 3 FIPS 140-2 security, which is basically a tamper-resistant and tamper-evident design. The way that Ironkey achieves this is by coating the internal chips with a hardened epoxy potting compound. The Ironkey is even capable of self destructing -- like something out of the spy movies.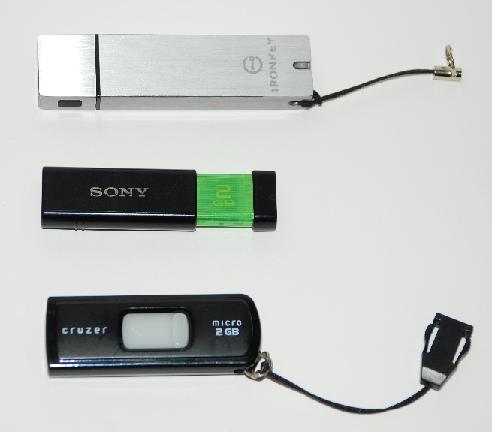 THE HARDWARE
There's not really much to say about the hardware. It's about as boring as it gets. Silver tin can comes to mind. Its body and cap are made of a hardened metal alloy that is virtually indestructible. The body has a little pin that holds a ring which can be attached to a key chain. The
Ironkey
label will peel off if the device is used heavily but there is no harm done to the device. The drive is also a little longer than its competitors but its nothing that we feel will drive business away. Take a look for yourself and be the judge. The one thing we didn't really enjoy was the removable cap that can be easily lost.
OUR IMPRESSION
There is not really much to set up on the device itself, which is great. Just like all other USB thumb drives on the market today, it is password protected so you will have to set that up. Upon insertion of the device into your USB drive you will get a password prompt just like all the other thumb drives. The difference with this USB drive is that it is hardware encrypted as opposed to software encrypted. In layman's terms this means that the device will be much harder if not impossible to hack into. The device was made for the government so you could just imagine the crazy security.
Check out the difference between the Ironkey menu compared to what we think is the most widely used and available thumb drive, the
SanDisk Cruzer Flash Drive
.
Here is a screen shot of the Ironkey Menu: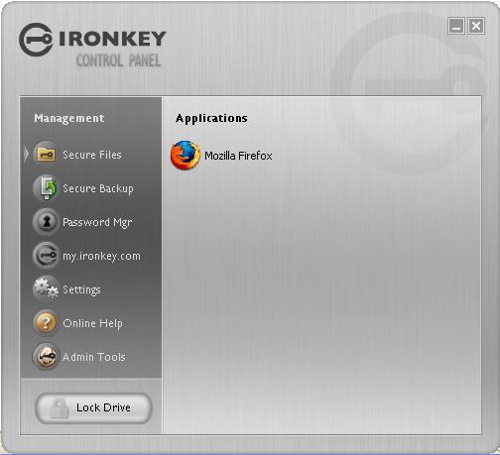 Here is a screen shot of the Cruzer Menu: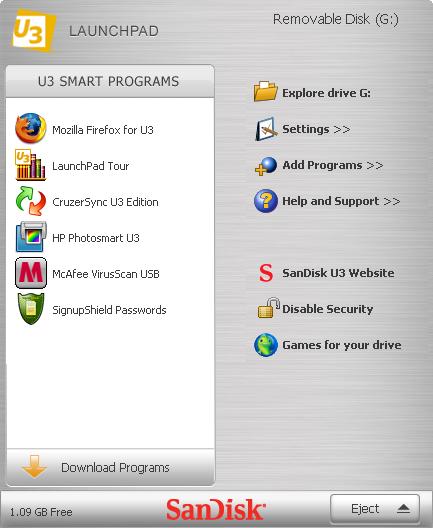 From the menu you can see that they are both pretty similar. You can easily notice that although both are user friendly, the U3 device
(Sandisk)
allows the installation of U3 applications. The Ironkey is not so friendly in this department. To our knowledge, you are not able to install such applications, at least not yet. It was a big no-no for us. The Sandisk allows you to download and install applications easily over the web. We thought this might be a security feature on the part of Ironkey to keep their device secure. Standalone executables however could be run from the Ironkey device without any problem.
The three demo units that we have are the IronKey "enterprise products". They come complete with web management and malware protection, although these options come at an additional monthly cost.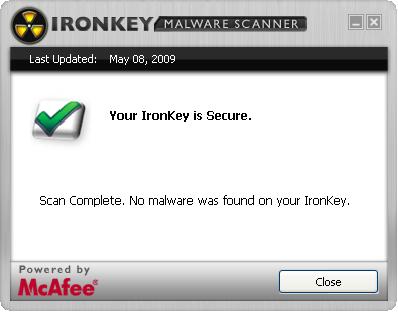 For large businesses or enterprise customers, the web management allows the administrators to view activity on the device, enforce rules, or deactivate devices at the touch of a button. The product allows a great amount of flexibility, giving administrators full control. We don't see the average user using this but it might be of high value to enterprise customers or businesses that require that kind of security. A good example of one of these rules is a rule that limits the attempts on the device by allowing the device to self destruct if too many attempts are made to log in. Once all attempts are made the device is destroyed never to be used again.

Another plus is what Ironkey calls their "silver bullet", basically it is protection against rogue employees. If an employee is let go or somehow runs off with your data you can send the device a silver bullet through the web. This will destroy the device instantly never to be used again. The administrator can set up a limit on how many times the device can log in without using the web. This rule will force the user to eventually use the Internet to log in to the device and detonate the silver bullet.
The web browser that is available on the personal and enterprise versions forces encryption, and has a monitor for spoofing web sites to keep you safe. The browser always keeps its files on the thumb drive so you will never leave any trails behind. We have been using the devices for about four months now and are happy with them so far.
The enterprise version also allows VeriSign Identity Protection (VIP), RSA SecurID ready, CRYPTOCard One-Time Password which are amazing forms of security on their own.
The Ironkey allows you to store an encrypted backup on your cpu and restore your drive at a future date.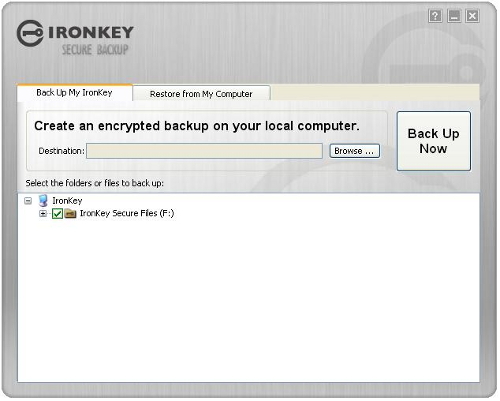 It also features a pretty fancy password manager that is great to keep all 6000 of your user name and password combinations for your favorite web sites or accounts. The password manager will even generate strong passwords if you are having problems creating one. If that's not enough it will automatically fill out this information when you visit the website with what you have stored.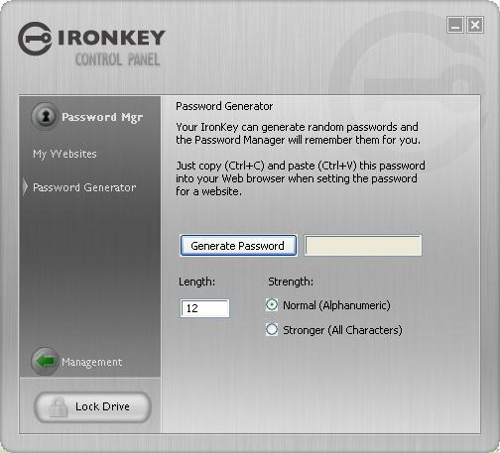 All in all it's a strong device that offers great peace of mind knowing that your files are virtually indestructible and secure. Can't decide which one? Ironkey helps you decide. Take a look
here
.
The current prices on
Amazon
are as follows.
1GB ~ $60.00
2GB ~ $80.00
4GB ~ $130.00
8GB ~ $199. 00
Note: If this is for enterprise use you will need to consider the charge for remote administration and extra services, but you will need to contact a vendor for a quote.
Check out the Demos
Basic / Personal Version for the average
Enterprise Version for business or Enterprise customers
IN THE BOX
-
Ironkey
USB Thumb Drive with Cap
- Key Ring
THE GOOD
- Strong design
- Offers ultimate encrypted protection for any type of file
- Malware Scanner
- Web management for enterprise users
- Web backup available
- Encrypted backup feature
- Password Manager
- Silver bullet feature (Allows admin to destroy a device remotely to protect data)
THE BAD
- Cap is easy to lose
- Expensive for home user
- Not very easy to find applications that can run on the device.
- Devices are currently only available in 2,4, and 8GB sizes
Get yours on
Amazon
MANUFACTURER
IronKey
Ironkey Basic 8GB Flash