Looking for a small, yet decent set of speakers for your laptop, iPod or portable device? We recently tested the
Diamond MSP100B Mini Rockers Mobile Speakers
at our labs and were very impressed with the sound quality.
The speakers are shaped like a little capsule with all the cables retracting inside the unit. The capsule breaks apart and delivers a pretty crisp sound with a nice hint of bass. We were pleasantly impressed at the audio that came out of these little guys.
The unit has a universal 3.5mm audio plug. Its power output is 4W and has an internal Li-Polymer battery that will give you about 6 hours of playtime on a single charge. The speakers measure 4" x 2" and fit snugly in the included carrying case.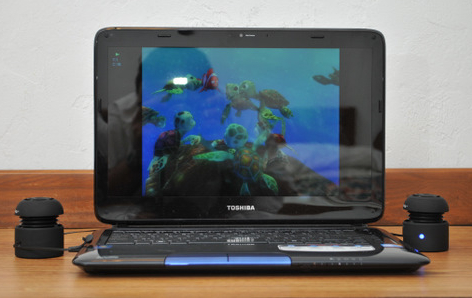 The Diamond Mini Rockers in Action
For around $29.99 we feel the speakers are a good buy.
THE GOOD
- Loud with good bass
- Great price
THE BAD
- Cables do not retract well
- Battery does not seem to be consumer replaceable
- Cables could be a little longer. The cable that connects the left to the right speakers are a little short for comfort.
IN THE BOX
- One set of Diamond Rockers Speakers
- USB Y-Cable for charge while listening
- User Manual
- Pouch
WHERE TO BUY
Amazon
MANUFACTURER
Diamond