If you are on the market for a car mount for your new smartphone or electronic device, take a look at the iMagnet. The unique design of the iMagnet allows for a Cradle-less mount of practically anything. The desing is strong enought to hold even todays larger phones like the Samsung Note3 or Sony Xperia.
The
iMagnet
is a strong magnetic base that adheres itself to a slim metalic plate that goes either between your phone and the case or attached via a sticker directly to the rear of the device. We have been using the iMagnet for about a month now and not once has the phone fallen off. We did notice that if the magnetic circle is not directly in the middle of the phone, it causes the phone to flop to one side but this is more user error than anything. We are really impressed with the power of both the suction cup that attaches to any smooth surface and the strenght of the magnet.
Shown below is the iMagnet being used with the Galaxy Note 3 from Samsung. It is one of the larger phones out in the market today and it grips on to this phone without any issues.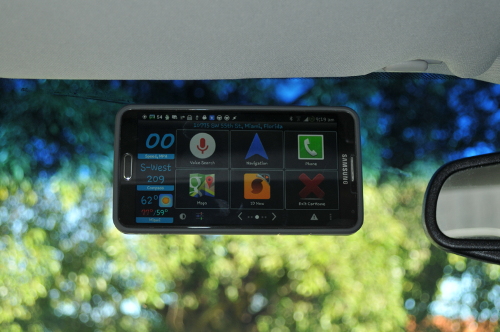 This is the rear view of the iMagnet used on the Note 3 with a
Spigen Bounce
case. It was also tested with the
Spigen Neo Hybrid
with equal results.
This is a shot from the rear of the iMagnet also on the Note 3 mounted on the windshield of an automobile.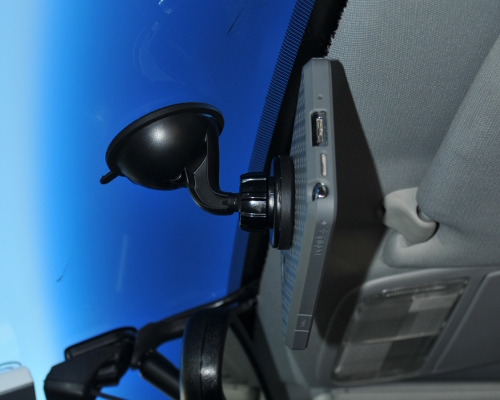 The Good
- Strong magnet capable of working on even larger phones.
- No clunky cradel that obstructs view
- Simple and effective design
- Sold with three plates two with adhesive backing (rectangular) and one round to put between your phone and case. (All three can be used beteen phone and case.)
- Easy One handed operation
- Priced well
- Comes with a one year warranty
The Bad
- The mount does not allow for much maneuvering
- Does not mount well on surfaces that are pourous (such as dashboard which tend to have a porous material)
- Bad Name choice, makes it seem like the mount only works on iphones when in fact it works with anything.
All in all we recommend the product and are very happy with it. You can get your very own iMagnet on
Amazon
.