Pebble Smart Watch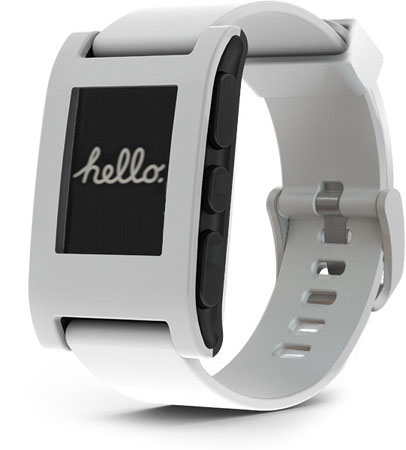 Not only is the Pebble a smart watch but it looks sexy too…The pebble smart watch connects via Bluetooth to any Android running 2.3 and up or iPhone 3Gs and up. It hooks up to your phone by means of a Pebble application that you install on your device and that's it. The watch can be powered for about 7 days on one charge. It can be customized by changing its digital face and the wrist strap can be changed as well to make it yours. The watch is also waterproof so you can technically get your tweets under water but we aren't too sure on how well that works.

The Pebble is capable of giving you instant vibrating notifications, messages and alerts. And you can dismiss a notification with a shake of your wrist. So what kind of notifications can you get? The answer is really up to your imagination due to the SDK (software development kit) but out of the box, you can get Incoming Caller ID, Email (Gmail or any IMAP email account), SMS on both Android and iPhones, IMessage (iOS only), Calendar Alerts, Social media messages such as facebook and twitter, Weather Alerts, and silent vibrating alarm and timer.

The watch can be used by cyclists and runners by interfacing with the GPS on the phone to tell you what pace you are traveling at. You can also access your music collection on your phone and play it directly from the watch. It's a pretty amazing little gadget and the best part is that it s only limitation is the software that is made for it.

More apps are being developed each day making it a great piece of hardware to own. Pebble has struck a deal with Best Buy so you will only be able to get it there after the 7th of July 2013. Eventually it will hit Amazon and other retailers.