If you are looking for wireless headphones or a bluetooth earpiece for your cell phone or other device make sure to take a look at the LG HBS-730 Tone +. I tried out a plantroncs headset first and although they looked nice and are a little more compact, they just didn't fit my head correctly and were uncomfortable. I ran across the
HBS-730
and gave it a try.
The wireless functionality is great and gives you freedom from wires getting snagged and having your earpiece pulled from your ears forcefully. Overall we are very happy with the purchase of this set. We paid $44 dollars on
Amazon
and they are well worth that price. We use them primarily as an extension of our phone for meetings and when we are doing something that reqires both hands around the office. We are very impressed with the sound quality, the life of the batteries, and the overall comfort of the unit. You can realistically have the HBS-730 on all day and not realize it. The unit is not bulky and conforms to your neck. The HBS-730 can be paired with up to two devices.
Upon turning the
LG Tone +
on, it tells you what the battery level is and lets you know when it is connected to your phone or media player. The controls for the volume and changing the media playing are very easy to navigate once you get used to them.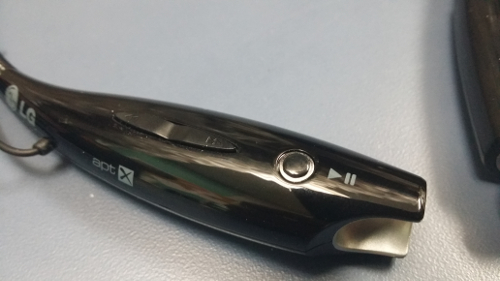 The only thing we didn't like was the power button seems a little cheap compared to the rest of the unit.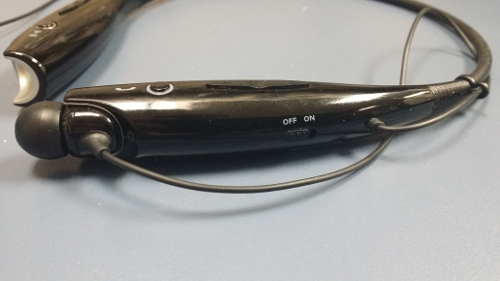 The
HBS-730
does not work well when it is far from the source. We tested the unit with a Samsung Galaxy Note 3 inside a car while the car was being washed. The phone was placed on the drivers seat and was getting its music source from Pandora. The LG tone disconnected every once in a while when we walked away from the car. We would say 10 - 12 feet more or less. When we walked back the unit automagically reconnected and started playing music again. This was the other thing we didn't like of the
HBS-730
.
When close to the unit or in our pockets the audio was very clear and deffinitley shows improvment over the older LG HBS-700. The bluetooth 3.0 deffinitley shows its strength here. All in all the unit performed very well for phone calls and works amazingly well when you have the
LG HBS-730
close to its source or in your pocket or purse.
Trying to figure out how the earbuds are kept in place while not in use? Its actually pretty cool. They have little magnets behind the earbuds that lock in to place when not in use.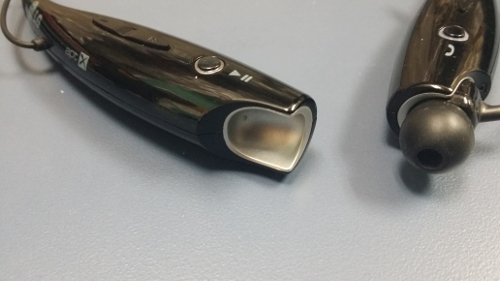 One more thing to look at is the micro usb charging port, you have to love that it doesnt use a non standard charging cable.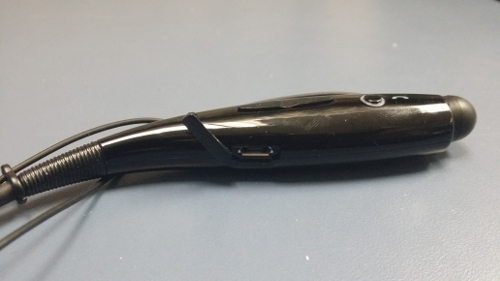 We would deffinitley recommend the device as there are not many competitors that offer all of the options at a similar price. Buy your
LG Tone Plus HBS-730 now on Amazon
.
The Good
- Great Battery Life (10 hours of listening/15 hours of talk time)
- Clean Crisp Clear Audio
- Good quality controls
- Controls are easy to operate
- Not too expensive compared to similar units
- Uses same micro USB charger as many phones
- Noise Reduction and Echo Cancellation
- Built in apt-X technology (CD quality sound over Bluetooth)
- Text Message reading through LG"s BT reader App for Android OS
The Bad
- Didn't Like the main power switch. (Feels Flimsy)
- Not a stable connection when over 12 feet away