If you want to protect your family from what is the web, make sure you read this! I have two little ones at home that are growing at an immensely rapid rate, or at least that's how it seems. From time to time my wife and I allow them to watch cartoons or tv shows on our tablet devices or laptop. It turns out that the little ones are very curious and end up opening all the applications on the devices. In order to protect those little minds, from going places that they shouldn't, we tried looking for applications to lock the devices. We couldn't find any application that would allow access to the few apps we didn't mind them accessing without blocking everything. After some searching we came across OpenDNS.
So what is OpenDNS? OpenDNS is an open domain name server. Believe it or not, you used a domain name server (DNS) to get yourself to this website. Your service provider directs you to their own DNS, this server translates text you provide into an address so that your browser knows where to go on the world wide web. You can think of DNS as a mailman, for instance you type your website URL on your favorite browser and the mailman delivers your package, or takes you to the web site you want to go to.
Having said that, we made the super simple configuration on our home router and in a matter of seconds we were protected against all adult-related sites, illegal activity, social networking sites, video sharing sites, and general time-wasters that we didn't want our family reaching. OpenDNS is doing the hard work of intercepting requests to only the sites you don't want your family going to from your dashboard as shown below.
OpenDNS Dashboard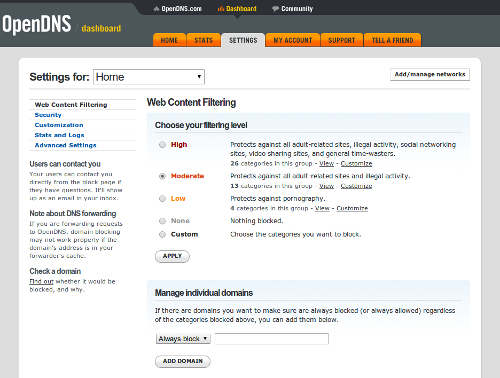 The beauty of OpenDNS is that it lets you the parent take control and be as conservative as you wish. The configuration can be done on each individual computer or on the home wireless router (easier). They provide detailed instructions and its as easy as changing a few number on your routers configuration. Not only does Opendns provide security but as a side benefit, the OpenDNS is typically a lot faster than the DNS your service provider gives you which will get you to the places you do want to go faster.
If your family gets to a site you deemed they shouldnt be seeing, they will see the following webpage. I love the peace of mind this gives me knowing that my family is safe.
OpenDNS Blocked Site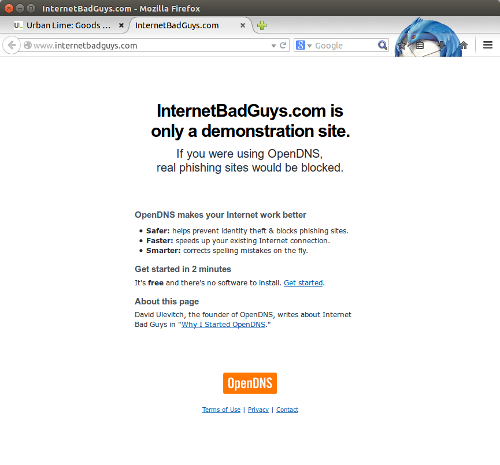 OpenDNS also provides you with logs and stats if you want to see where the family is going and ultimatley tweak your settings, It really is up to you. You can also turn off logging if you are paranoid about them collecting your data. For the not so computer savy they have an option that applies default filters so you don't have to do any thinking! Got to love it. The best part is that its FREE!
OpenDNS Stats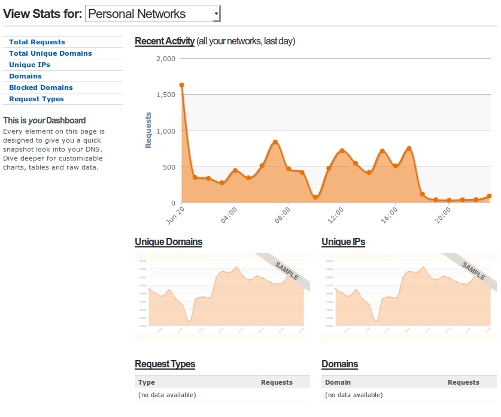 Get started with OpenDNS
here
.
The Good
- It's FREE
- It Works
- Easy configuration
- Allows you as much control as you want.
- Faster than your service providers DNS
The Bad
- It may block sites you didnt want blocked ( we havent experienced this and have been using for over 2 months)
Other Resources
Another resource on internet safety you may want to look into can be found at
backgroundchecks.org
. This link has a toolbox of 120 tools and tricks for the concerned parent to keep their child safe online.