Here is a little kitchen gadget that is sure to turn some heads. I have always wanted to try to make some breakfast sandwiches at home for my wife and kids, but how could I make those perfect eggs like they make in the restaurants? Well I went off on a little hunt and found this little guy in a local Bed Bath and Beyond. The
Joie Roundy Egg Ring
was under five dollars so I figured I would give it a shot. I couldn't have made a better investment .
This little silicone egg ring makes some perfect looking and tasting eggs and who doesn't love the little egg smiling at you while you are cooking? The silicone is great because it doesn't scratch your pans or stick to your eggs. It washes easily and is easy to store just about anywhere. Best of all I made my wife happy by giving her restaurant style breakfast at home. You know what they say, happy wife happy life! We really loved this little gizmo. We used a small amount of butter to get the eggs not to stick to the pan and started to cook. Check out our first shot at a sausage egg and cheese Muffin. Get your very own
Joie Roundy Egg Ring on amazon
.
Joie Egg Ring Cooking the egg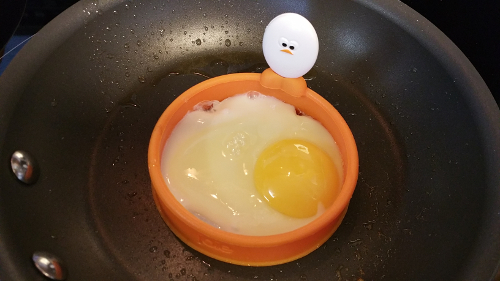 Joie Egg Ring Cooked Egg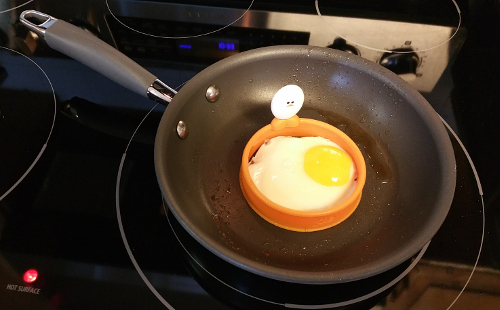 Joie Egg Ring Not sticking to Egg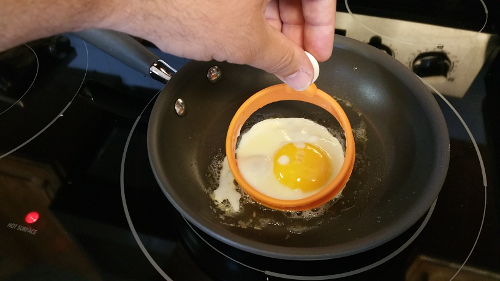 Egg Muffin Sandwich using Joie Egg Ring