Our first impressions on this sleek looking phone was a good one. The
HTC Fuze
with it's glossy black finish made some of the people at our office turn their heads.
THE HARDWARE
The HTC Fuze has an average footprint of 4.02 x 2.01 x 0.71 inches, with a weight of 5.82 ounces. You can expect up to get up to 7.4 hours of talk time per full charge with the factory 1,340 mAh lithium-ion battery. HTC also claims that the Fuze has about 460 hours of standby timem but who actually leaves their phone on standby for that long without charge anyway.
The mobile phone has a Qualcomm MSM7201A, 528MHz processor for a brain, a processor that is pretty much at top of the line of PDA products at press time. It also has 512MB of ROM and 288MB of RAM for memory. A mini SD card slot that supports up to 32 GB at the moment helps make this phone a media device. A real screen resolution of 640x480 resolution on the 2.8" touchscreen that is flush to the body, gives the phone that head-turning look. One small warning, the flush screen might make it more susceptible to scratches.
The construction is very solid. Even the slide-out keyboard does not jitter when pulled out, which makes the phone feel that much sturdier.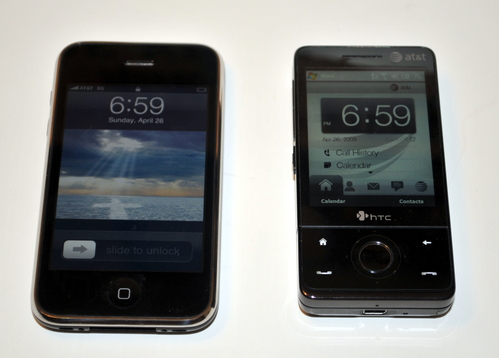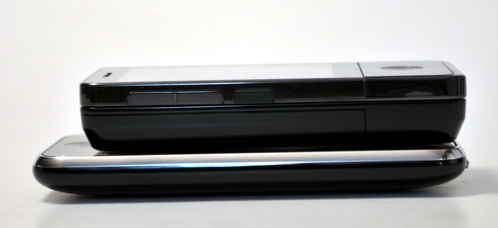 The HTC Fuze PDA Vs The Apple iPhone
THE SET UP
The Fuze was easy to set up. After powering it up for a few hours, when the device was booted up, it automatically recognized our 2GB mini SD card. The only thing we had to set up was the stylus screen alignment and input some basic user information.
OUR IMPRESSION
At first it was a little tricky to get where you wanted to go but after a couple of days of using the device you get used to the new touchscreen "TOUCHFLO" interface. Like all Windows devices we have seen in the past we felt that the phone was a bit sluggish at times even with the fancy processor. Mostly during boot up, but nevertheless a little unexpected from a new phone. Once the phone has completely booted, it picks up speed and is ready to do its job. This little sucker is a workhorse. The
HTC Fuze
is a 3G tri-band HSDPA. It features a full QWERTY keyboard that comes in very handy for texting or editing a document in word. The keys are a little small for our taste but some of our reviewers didn't really mind it.
Compared to the Windows Mobile interface, the layered add on application "TouchFlo" that HTC had installed on this device was more user-friendly.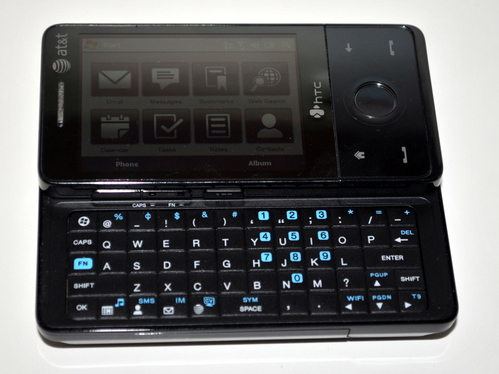 It has push to talk capabilities, and you can connect to just about anything with it. Bluetooth 2.0 ,HSDPA, Wi-Fi 802.11 b/g, AT&T Navigator / Google Maps, a Mini-USB for file transfers, and ActiveSync are all supported by this guy. The one thing that was lacking in the connectivity department was an infrared port which its older brother the HTC 8525 did have.
You can expect to find all the standard features of PDA's like a phone book, calendar, to-do list, browser (Internet Explorer & Opera), and calculator. The HTC also allows voice commands for automatic dialing and such.
For those of you who can't live without being in touch the phone offers SMS, EMS, MMS, E-Mail through POP3, IMAP4, SMTP, Exchange and Outlook. We are almost certain you will be able to connect to mostly any server to get your mail. If that's not enough, a bunch of chat clients like AOL, ICQ, Windows Live, and Yahoo are available at your disposal. It also offers T9 predictive text for quicker texting..
In the multimedia department the HTC Fuze allows you to select polyphonic or MP3 ring tones. You can choose your own themes to make the phone yours and choose from a variety of J2ME games. If your bored and have an unlimited data plan you can even stream some media with the AT&T Mobile TV or AT&T Video options. The Fuze is accompanied by the AT&T Music mp3 player as well as the RDS FM radio.
The 3.2 MP flash camera outperforms many phones including the above iPhone 3G. We enjoyed the Auto-Focus feature and extra bright flash. It allows for video recording with sound also, and both videos and pictures can be shared through email or messaging.
Heres a picture of our mascot Bailey we took with the Fuze to give you an idea of what you can expect.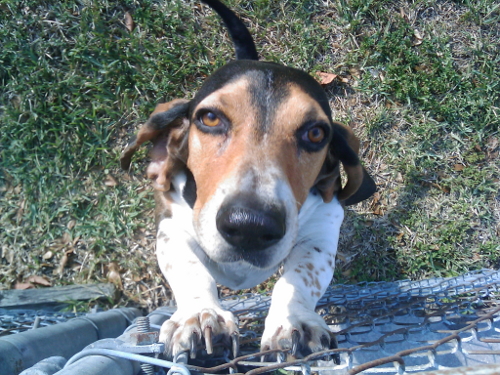 Click
here
to see the full size image that the phone took.
We were not very impressed with the speaker phone. When the volume was all the way up it was a bit scratchy but it was bearable. Most other phones we have tested fail here too, and its just because the quality of speaker you can put in these phones while keeping the phones small is not so great. Not really something that should deter you from getting the phone though.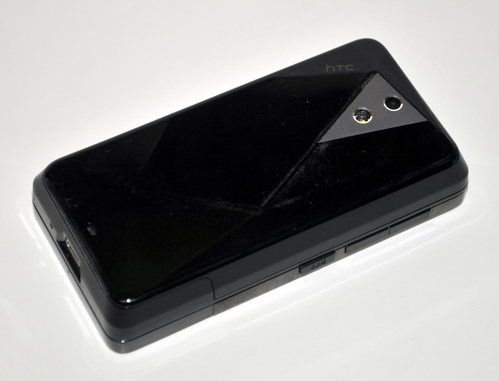 A cool feature that is pretty much standard in all smartphones now was the accelerometer. The accelerometer is amazing, it is integrated with some of the software installed like the phone for instance. It will allow you to mute a phone call by turning it face-down for instance. We loved Teeter, it is a game like the old Marble Madness for Nintendo, only you have to tilt the phone to make the little marble move. Caution it is highly addictive!
The
HTC
phone is real nice and shiny but if you are the type of person that doesn't like fingerprints on their stuff, this is probably not the phone for you. You just cant avoid having finger prints on this device, the shiny surface is also a very smooth so make sure you hold on tight cause it might slip out of your hands.
The controls on the phone are very intuitive so it only takes a couple of minutes to figure out how to get around. The button in the middle has a touch sensor around it that is used in some apps like photos for instance. The sensor allows you to zoom images in and out by simply moving your finger in a circular motion around the button.
On the left side it has the regular up / down volume buttons as well as the push to talk feature. on the right side there are no buttons but just a little hole for you to stick your stylus in. The stylus pen has a nice magnetic lock. A nice feature is that when you pull the stylus out it turns on the pda screen.
The phone uses a standard mini usb plug for charging and syncing with your pc.
IN A NUTSHELL
The Windows Mobile HTC Fuze is a pretty amazing phone that although a bit quirky, it is a true work horse. For those constantly on the go however, the battery life might become an issue.
IN THE BOX
- HTC Fuze with Stylus
- Instruction manual
- USB cable
- Headphone connector
- Extra stylus
- Active Sync software
- AC USB phone charger
THE GOOD
- Lot's of features
- Impressive camera with flash and auto focus
- Good reception
- Strong construction
- Big clear bright screen
THE BAD
- A bit pricey unless purchased with a contract. Most contracts are 2 years now.
- Sluggish when booting or if too many applications are open
- Still uses a stylus.
- Headphone jack not built into the phone (need a custom adapter that is included).
- AT&T adds too much software that just takes up space. It would have been preferred if they would allow you to install the applications you wanted.
Get yours at
Amazon
MANUFACTURER
HTC