The
VeraEdge Home Controller
is a new device that was created to replace both the Vera 3 and the Vera lite by Vera formerly known as Mi Casa Verde. They have been in the business for quite some time and have a well established community and forum base. We find the Vera controller to offer a fairly affordable device that will allow control of devices like door locks, sensors, thermostats, dimmers, etc. The VeraEdge is capable of talking the z-wave plus as well as wifi protocols. The Vera Edge is an open system that allows you the owner / user to take it over and do as you will, it is the main thing that sets this device apart from all the others such as smarthings and the former revolv hub. With the Vera Edge you will not need to replace any of your home wiring to make it talk to your devices. It will use your existing wiring and all communication is done wireless.
Just like all its competitors it features apps for iPhone and Android devices alike. The user interface is simple to use and is easy to navigate.
Here are some screen shots of the Android app, the apple iOS version is very similar.
Welcome screen Vera Controller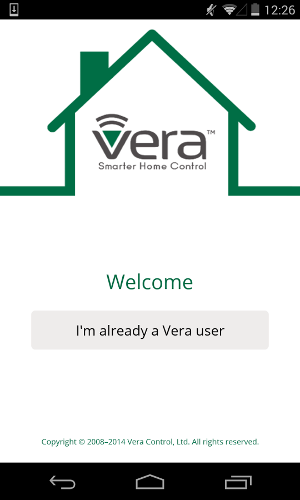 Dashboard screen Vera Controller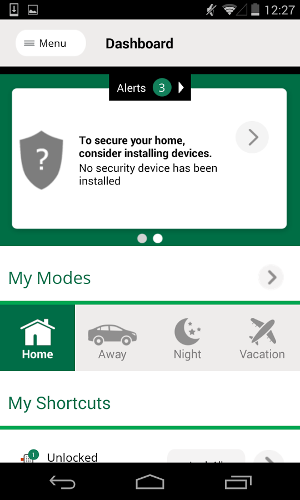 Menu screen Vera Controller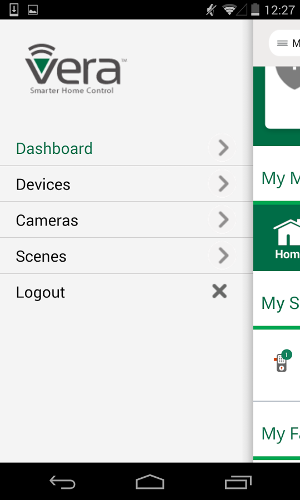 Device screen Vera Controller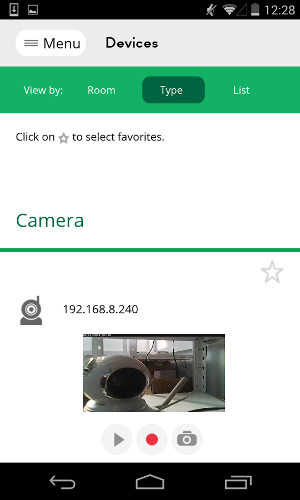 Scene screen Vera Controller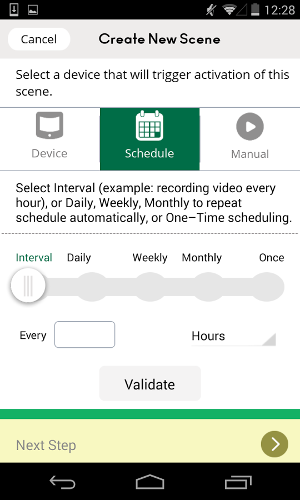 We recently reviewed the
VeraLight
and were excited when we heard of its replacement so we quickly placed an order. After receiving our
VeraEdge Home Controller
we plugged it in to our network and started setting it up. Just like the Vera Light, it did not include any instructions but instead pointed you to the website to set up the device. The initial set up was fairly easy however we could see how someone with no knowledge could get stuck in a few steps (when pairing devices such as switches and door locks). A few You Tube searches could fix this but we don't feel you should need to do that. Our experience has not been so good with the plug-ins but the issue based on forums seems to be that the new UI7 user interface is new and still needs some work. Most of the plug-ins we tried have been written for the older UI. An example of a plugin that we used and loved is the weather underground plugin. The plugin allows you to get weather information into your vera that you can use to trigger scenes. For example, if it is over 85 degrees outside turn on sprinkler pump so your dog can have some water to refresh.
Here are some images of the different physical features of the veraedge vs veralite.
Veralite vs Veraedge Footprint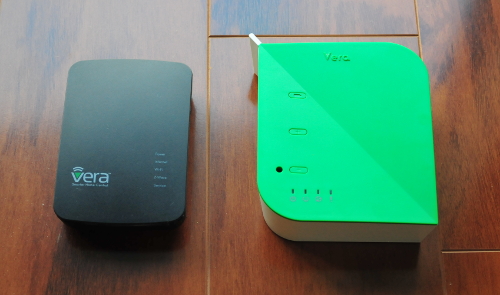 Veralite vs Veraedge ports Ethernet USB and power same on both units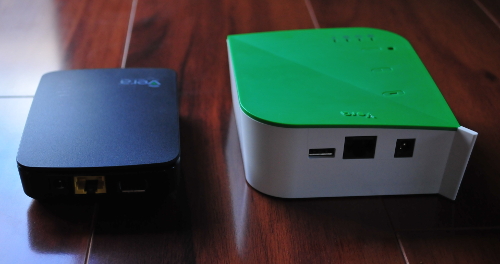 Veralite vs Veraedge Height footprint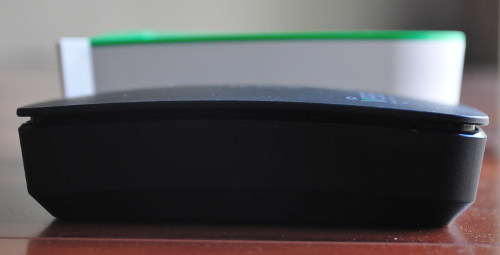 Veralite +, -, battery, and reset vs Veraedge sync (same as + and - on veralite), WPS, and reset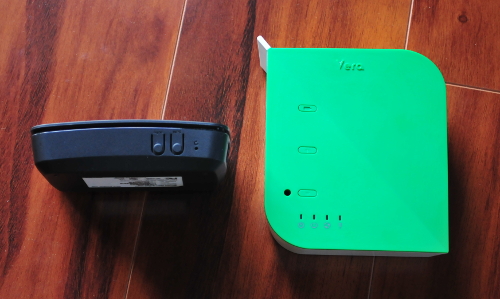 One of the most popular features that set the Vera systems apart is its plug-ins that allow it to talk with devices such as thermostats like the nest via plug-ins. It is also capable of talking with DSC alarm controllers via an envisalink module that is to be attached to the alarm and a plug-in on the Vera side. This and many more plug-ins are available and if you are the techy type you can create your very own plugins using Lua and
luup code
. The possibilities really are endless with this device.
We wouldn't necessarily call this little guy a router but if plugged in to a cable modem for instance it is capable of dishing out DHCP addresses. You will not be able to reserve IP addresses or set up any port forwarding so if you need this functionality get yourself a real router.
When we received the unit there were a few bugs like the USB port was unusable for logging if you are developing and the IP couldn't be set statically but Vera has sent an update recently that fixed those issues. There seems to be a somewhat decent support system.
The pairing of devices is easy however they removed the battery option that the veralight had to take the unit close to the devices for pairing without a power adapter. If for some reason you aren't able to pair from where your unit is installed, you will need to unplug everything take the unit and power adapter to plug it in to power next to your door lock for instance. In our case the two wall switches worked flawlessly via the app and original install location. We did have an issue pairing with one device that was further away so we plugged the Vera to power next to that device and hit the sync button on the side of device and when flashing rapidly we controlled our z-wave device. Once you see the vera flash rapidly your device is paired and you can unplug ant take back to desired location. (not anywhere in the manual had to you tube this hence my point above)
We have had the unit for about three weeks now and it works great. No hiccups so far except fro the plug-ins but that�s not really Vera's issue since they didn't write the plug-ins. All in all we really like the flexibility the device allows. We enjoy the open framework and love the fact that you don�t need to connect to external devices to control your equipment at home even if your internet is out.. In the case of smarthings or revolv, if you loose your Internet for whatever reason, you cant control your devices even if you are home and your wireless router is working properly.
Breakdown of difference between Vera controllers
The Good
- Good price for functionality
- information stays on the hub.
- No internet required to control from within your wifi network.
- Plugins allow it to work with many other types of devices such as those that have wifi html interface.
DSC Alarm Panel
with the
EYEZ-ON EVL-3
and
Nest thermostat
are two of the more popular plugins.
The Bad
- The instructions are not very clear on how to add devices. (Once you figure it out it is actually very easy)
- Only supports z-wave plus and wifi protocol we wish it also did zigbee
- At the moment the device seems somewhat buggy
- Many of the plugins do not funtion properly
Get your very own
VeraEdge Home Controller on Amazon.