Ice cream making, like ice cream, comes in different flavors: You have manual machines, pre-frozen bowl motor-powered machines, and built in freezing mechanism. The Cuisinart ICE-30BC 2 Quart ice cream maker is the pre-frozen bowl variety.
The Cuisinart ICE-30BC 2-Quart Ice Cream Maker allows you to create frozen yogurt, sorbet, ice cream, and gelato. For a typical ice cream, the machine will take about 30 minutes to churn your custard to tasty ice cream.
The Cuisinart ICE-30BC 2-Quart Ice Cream Maker is housed in brushed stainless steel. At the top you'll find a large ingredient spout, which allows you to add your mix-ins (think crushed Oreo cookies for example) during the churning process. In the lower part of the machine is where you'll find the automatic motor unit and the space for the double-insulated 2 quart freezer bowl. Tucked away underneath the body is the power cord, which can remain hidden until it is necessary to use. We wish however, that the cord was a foot longer than it currently is. Since this is not the kind of device you keep on your counter space (it is BIG!), most of the places where you'll plug this in will be taken away by devices you use everyday. So, having a longer cord would allow easier placement on the counter. Although the device is really heavy, it is very well constructed and does not feel cheap.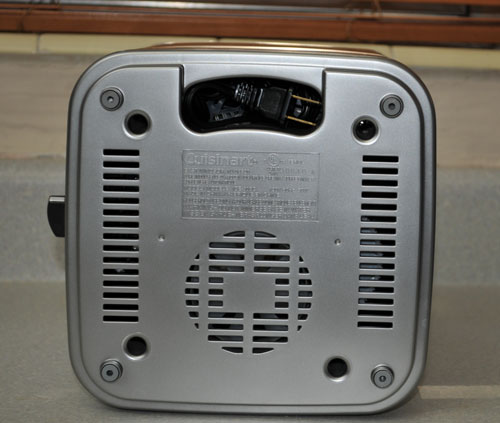 To use this machine you'll need to pre-freeze the freezer bowl for at least 8 hours before, so it is always recommended with this kind of ice cream maker that you store the freezer bowl in the freezer. Heed that as a warning, if you have a small freezer, you are better off buying the one of the smaller Cuisinart ice cream makers on the market. You'll also want to prepare the custard or non-custard ice cream before hand to keep the ice cream cool during the whole process. When you are ready, you turn the unit on and pour the ice cream mix slowly into the Cuisinart.
The device is not quiet, but it is not louder than similar devices and it is the nature of a device that has a motor running through a thick liquid like this to make a certain amount of noise.
We made recipes from the included recipe book and the fabulous ice cream book
Perfect Scoop: Ice Creams, Sorbets, Granitas, and Sweet Accompaniments
by David Lebovits.
If you like your ice cream smooth, rich and creamy, this machine delivers in spades. As the machine churns, the custard slowly starts thickening. You should add your mix-ins about 5 minutes before you think you'll stop churning the ice cream.
One other note about the pre-frozen bowl before we go. To clean the bowl you'll need to run it through warm water and let it sit to essentially melt before being able to freeze it again. If you plan to make back-to-back ice cream, you should buy a
separate bowl
.
We wouldn't hesitate to recommend the
Cuisinart ICE-30BC 2-Quart Ice Cream Maker
over other pre-frozen bowl home ice cream markers -- specially when you can find it online for less than $70 dollars.
Watch our video review:
THE GOOD
- Makes soft creamy ice cream
- Good built quality
- Great price
THE BAD
- Heavy
- Long re-freezing times for the bowl
- The power cord is too small
IN THE BOX
- The Cuisinart ICE-30BC Ice Cream Maker
- 2 Quart Freezer Bowl
- Recipe Book
WHERE TO BUY
Amazon
MANUFACTURER
Cuisinart