Get your Expo Dry Erase Markers ready, you are going to love this dry erase paint! We were looking to get a dry erase board for the office, but we were limited by the sizes that are available. While shopping around we came across Idea Paint that would let us cover an entire wall to bring all our ideas for the future into one big (REALLY BIG) Canvas. After some research, we decided to buy enough to cover a 450 sqft area and got to work. We were really impressed by the results and wanted to share this product with you.
Not only did the wall work as good as a dry erase board but we felt it erased better.
Idea paint
does not just lend itself to walls, you can let your imagination run wild and paint furniture, objects, or even your ceilings although we think it would be a little hard to use up there. Say goodbye to that plain old dry erase board!
We did find that there was lots of prep work to make sure your wall was perfectly smooth before applying but it was worth while. The other thing to note is that the smell of the chemicals will drive you crazy. We painted our wall over a weekend and the potent smell remained for almost 4-5 days although it did get less irritating towards the end. Once the wall was completely dry it no longer smells and makes an amazing dry erase board.
If you are doing this at home, I would probably take a week vacation to make sure you aren't breathing this stuff, or just close the air vents and open the windows in that room.
Idea paint is offered in many cool colors and we went with the plain old boring white, however the one that just recently caught our eye was the clear kit that will allow you to basically get any color you can dream up. The kit includes everything you need to get started, so what are you waiting for?
Go ahead and let your imagination run wild. This is truly an amazing product. The 50 sqft kit will run you about $225 so get ready to dig into your piggy bank! We love this product for kids rooms and we are certain they will too... Only thing is they might get crazy and paint on your not so dry erase marker walls so you will have to lay down some ground rules for the little ones.
THE IDEA PAINT VIDEO
THE IDEA PAINT INSTRUCTIONAL VIDEO
Take a look at the installation video prior to purchasing your idea paint, this will give you an idea as to how much work it will be. Really the painting is easy, its the prep work that took us longer because our wall was not smooth.
THE GOOD
- Limits are endless, make anything a dry erase board
RECOMMENDED SURFACES
- Most sealed non-porous surfaces
- Stained wood
- Painted drywall
- Plastic
- Metal
- Aluminum
- Chalkboards
- Whiteboards
THE BAD
- Strong Odor during installation
- A bit expensive
IN THE BOX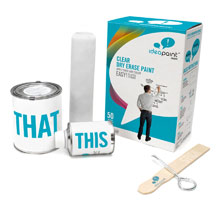 - THIS can
- THAT can
- Recommended roller
- Stir stick
- Can opener
- HELP guide
- Wet Paint sign.
WHAT'S MISSING
- A strong will to go crazy and paint all over the place
- Dry Erase Markers (We use Expo Dry Erase Markers and they work great).
Get Your Expo Dry Erase Markers Here.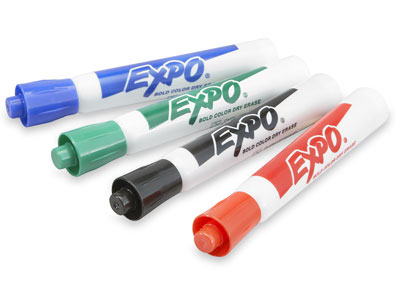 WHERE TO BUY
-
Amazon
-
Idea Paint
MANUFACTURER
Idea Paint